Facts Are Beliefs Made Solid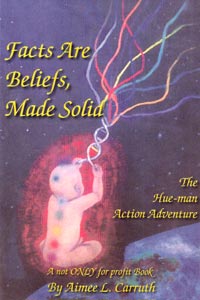 To all of my fellow adventurers,
The cover of this book states that it is a "not ONLY for profit" book. In the big picture of my L.I.F.E., I am working to facilitate (in my own small way) a change in the current health care system. This is with education, and setting up scholarships for people that would choose a drug free, non-invasive style of health care, only to find that their insurance company does not cover their choice. "Facts" is the launch of that project.
Blessings,
Aimee
Please return to this site for updates from our associate teachers, and our continuing growth.

September 2006
Book and 'What If' game on CD
Buy this book with PayPal! $19.95 (includes S&H)

Buy the "What if?" CD
65 minutes with 3 meditations! $14.95 (includes S&H)

Buy the Book and CD together with PayPal!
$29.95 (includes S&H)

Ph: (978) 793-3822